$34.95 $59.95
Features:

-Set of 32 high quality forged steel lug nuts with

VERY DURABLE BLACK PAINT.


-Made of SCM 435 Cold Forged Steel.
-60 degree taper bulge seat lug nuts for secure fit.
-1 SECURITY KEY INCLUDED!
-Lug Wrench kits available in our store for an additional $19.99!


Specifications:
-Lug Height: 1.9" inches tall.
-Thread Size: 14X1.5

FITS 2003 & NEWER FORD SUPERDUTY F-250, F-350, & EXCURSION TRUCKS IF YOU HAVE A 1999-2002 MODEL FORD YOU CAN CLICK ON THE LINK BELOW

DISCLAIMER
PLEASE NOTE THESE LUGS WILL ONLY WORK WITH WHEELS THAT ARE MEANT FOR CONICAL OR CONE SHAPED SEATING THEY ARE 60 DEGREE TAPERED CONICAL SEAT THAT WILL WORK WITH ALL AFTERMARKET WHEELS!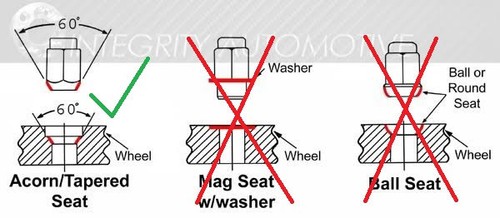 Whether you want to give your vehicle that aggressive stance, eliminate rubbing, mount a larger wheel or tire, clear breaks  or struts, our spacers are perfect for all of the above! They also  increase your vehicles handling performance due to adding trek and width to your stance! Please know your receiving some of the HIGHEST QUALITY product the market has to offer, BUY WITH CONFIDENCE!